Note: Some links in this post are affiliate links, which means I receive a commission if you make a purchase. There is no additional cost to you. Thanks for supporting my small business!
Where to find the best baby sign Language books, videos, and more
Parents often ask me what the best resources are for teaching your baby sign language. What is the best baby sign language book? Do I need to take a class? Can you recommend videos? Flashcards?
These are great questions! To help make it easier for you to find the baby sign language tools you need, I've created a list of my favorite resources to help you get started.
The Ultimate Baby Sign Language Resource Guide
Books
I don't know about you, but when I want to learn something new, I head straight to Amazon or the library to see if there's a good book on the topic.
After recommending books I didn't love for many years, in 2018 I had the opportunity to write the book that had all the tips & strategies I teach my students. Obviously, I'm totally biased, but I love this book! Below are 5 reasons I think you'll love it too…
It's short & sweet and gets right to the point
I wrote this book with the busy (and tired!) new parent in mind. No fluff, no filler. It gets right to the good stuff so you can get started signing right away.
It teaches you how to teach your baby to sign
Step-by-step instructions walk you through exactly what you need to do to succeed. You'll also find answers to all your questions about baby sign language.
It's filled with tips & strategies
A comprehensive troubleshooting guide and tips throughout the book will make sure you avoid the common mistakes that most parents make.
It's beautifully illustrated
The illustrated ASL signs are colorful, accurate and easy to understand. Additionally, you'll find video instructions on how to do every sign in the book in my online baby sign language video dictionary. Each sign has clear instructions, memory tips, suggestions on how to use the sign, as well as how to recognize your baby's version of the sign.
It's filled with songs, books & activities 
Every chapter wraps up with fun & easy ways to incorporate sign language into your daily routines with your baby, including board books, song and games you already know.
Get your copy of Baby Sign Language Made Easy today!
This follow-up book to Baby Sign Language Made Easy, will keep you and your baby learning and expanding your American Sign Language vocabulary.
You'll find more signs, including signs for colors, feelings, opposites, school, animals and much more. Plus instructions on how to add sign language to books and songs you already know and love.
Get your copy of The Complete Guide to Baby Sign Language today!
Baby Sign Language Flash Cards
Ok, I'm just going to be put it out there: I hate flash cards.
Parents often ask me about them, and honestly, I'm just not a fan. In my experience, they don't create the type of interaction that babies need at this stage of their development. When I see parents using flashcards, they almost always fall into a routine of asking their baby, "What's this? And what's this?" This 'quizzing' type of interaction is not the sort of conversational communication that babies need to build their budding language skills.
So what's a parent to do?
Seeing the need to have a handy reference, I created my own baby sign language printable charts for parents and teachers to use at home and in the classroom. These printable charts are organized by theme and can be printed or used on an iPad or other device. I find them to be more useful than flashcards because they help remind you to sign, and how to do the sign, but still allow you to interact in a conversational way with your baby.
For example…
It's bath time and you're just getting your little one into the water. You've got your Bath Time Signs printable handy (in a plastic page protector so it stays dry), so you can refer to it as you chat and bathe your baby. You sign WATER as baby splashes and plays, and then you sign COLD when baby shivers as it's time to get dry.
The baby sign language printable charts are affordable and available for purchase so you can start using them today!
GET YOUR BABY SIGN LANGUAGE PRINTABLE CHARTS HERE >>
Baby Sign Language Classes
A baby sign language class with a skilled instructor can be a great way to learn how to sign with your little one. Plus you'll get the added bonus of meeting other new parents in your community. Baby sign language classes generally meet weekly for a series of classes and teach signs, songs and strategies over the course of the session. You'll learn tons of songs & activities that you can use at home and get tips & strategies from your instructor.
To find a class, just do a quick search online for baby sign language class near me. Or ask around at the library or other places where you meet other new parents.
Unfortunately, it might be hard to find a class in your area, and if there is one, it might be too far or on a day or time that doesn't work for you. If that's the case, you might want to look into an online baby sign language class that allows you the flexibility to learn from home and on your own schedule.
Online Baby Sign Language Classes
A quality online class is a great option, especially now when attending in-person events is not recommended. A good online class includes video instruction on signing, lessons with tips and strategies, printable guides and resources, and an experienced instructor who is available to answer all your questions.
Online classes are a great solution for busy parents who want the flexibility of learning online. They're also ideal for anyone who doesn't have time or access to in-person classes. You can work through the material at your own pace (and in your PJs!) and refer back to it in the future, should you need a refresher. A quality online course also offers a community experience where you can interact with other parents to learn and support each other through the process. A clear path to success, including tips and strategies is what sets a quality online course apart from "classes" that provide little more than an online video dictionary.
To find a good online baby sign language class, check the credentials of the person offering the program to make sure they have completed training in this field. Look to see if they have a background in child development, early childhood education or speech/language development, as well as a solid knowledge of American Sign Language.
I am more than a little biased here, but I spent more than 2 years creating Tiny Signs: The Essential Course, a comprehensive online course to teach your baby sign language. This program offers EVERYTHING you need and is exactly what I wish I had when I was muddling my way through signing with my first baby. If an online course sounds like the way to go for you, you'll definitely want to check it out.
So there you have it…
I hope you enjoyed this round up of my favorite resources and tools for learning baby sign language. If you have any more questions about signing with your baby, please share it in the comments below and I'll be sure to respond. If an online baby sign language course if for you, I invite you to join me in Tiny Signs: The Essential Course – you won't regret it!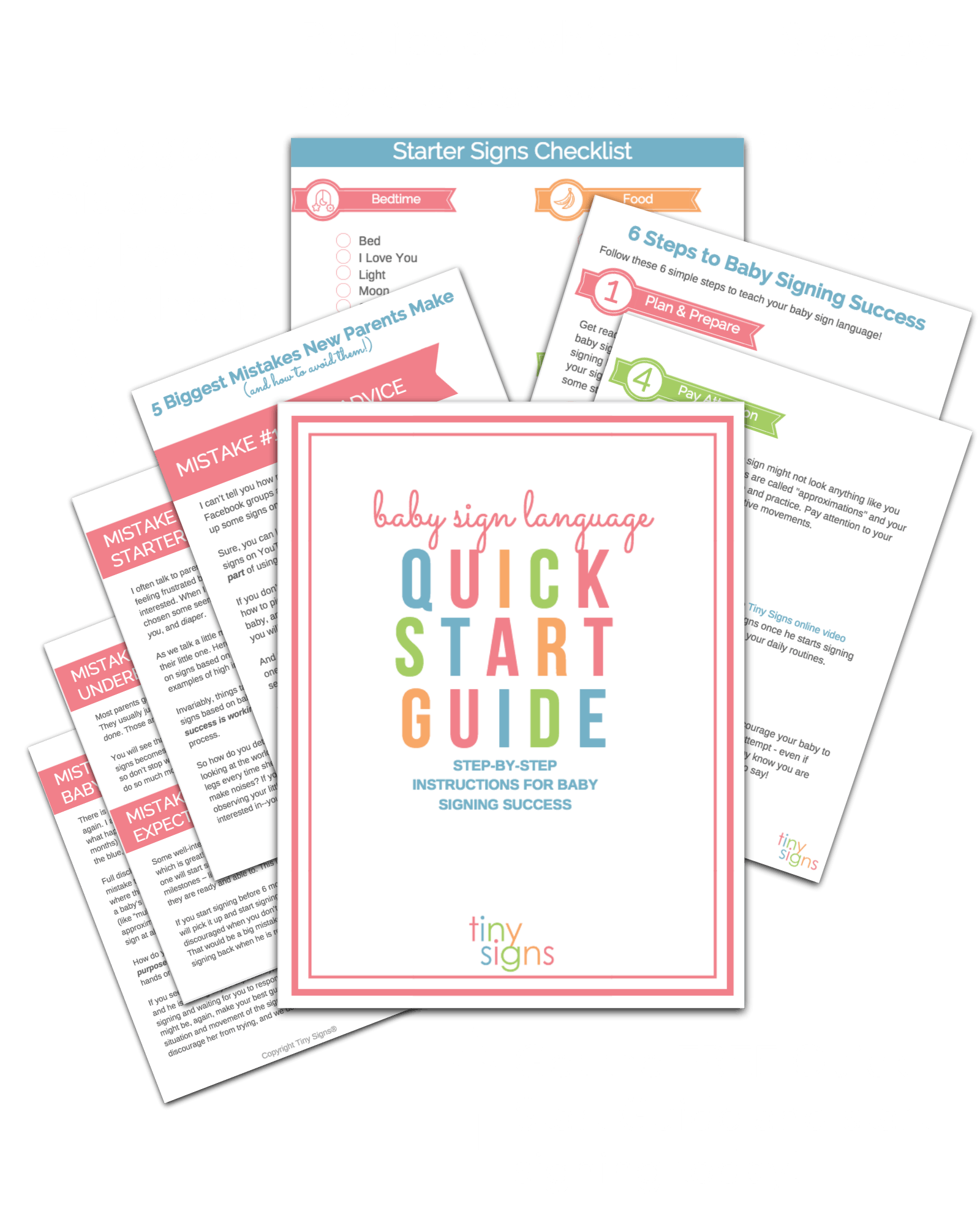 Subscribe to Get the FREE Quick Start Guide!
Subscribe to the Tiny Signs newsletter and get free tips & advice via email. You'll get the FREE Baby Sign Language Quick Start Guide delivered straight to your inbox as a special thank you for signing up!