Tiny Signs: The Essential Course
A step-by-step plan to teach your baby sign language.
Baby sign language can be confusing.
Learning how to do a few baby signs is one thing. Teaching your baby how to use them is something else entirely.
That means you probably have more questions than answers:
When should I start?
How do I know what signs to introduce and in what order?
How can I tell if my baby's getting it?
Will I be able to recognize their first sign?
Does it matter if they don't form the signs exactly right?
How can I make the learning fun for everyone?
Teaching your baby to express themselves through sign language doesn't have to be so complicated!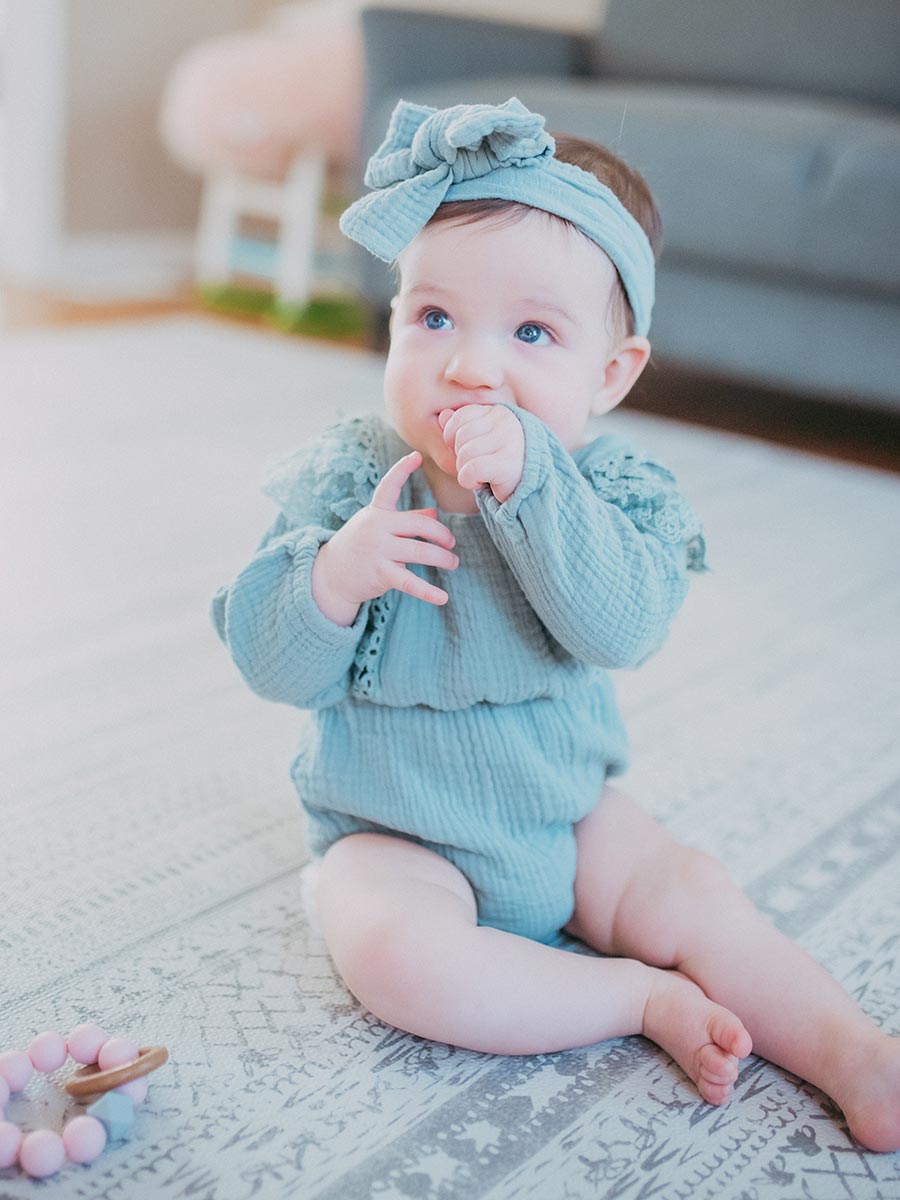 Tiny Signs teaches baby sign language using a simple, step-by-step process.
Confidently recognize your baby's signs.
Understand exactly what your baby is thinking and communicating.
Avoid power struggles and tantrums with better communication.
Give your little one the tools to express themselves.
Deepen your connection and create lifelong memories.
Have fun and be amazed by your baby's growing vocabulary!
Improved Communication
Sign language builds on your baby's natural ability to gesture, so they can communicate with you sooner.
Reduced Frustration
When your baby can let you know what they want or need using a simple sign, you'll both be much happier.
Advanced Language Skills
Babies who sign have larger vocabularies, understand more words, and use longer sentences than their peers.
Higher Than Average IQ
On average, kids who sign as babies and toddlers have an IQ 12 points higher than their non-signing peers
Deeper Connection
Sign language allows you to connect with your baby so you can get to know their interests and personality.
The Tiny Signs Curriculum
Step 1: Prepare
Understand the history and benefits of baby signing.

Learn how to enhance your baby's speech and language development.

Develop a timeline for when to start and when your baby will sign back.

Avoid common communication mistakes.
Step 2: Pick
Tune into your baby's interests to find what will motivate them to sign.

Create a personalized list of your baby's first signs.

Understand how to introduce signs, from the first to the 100th.

Practice 12 starter signs.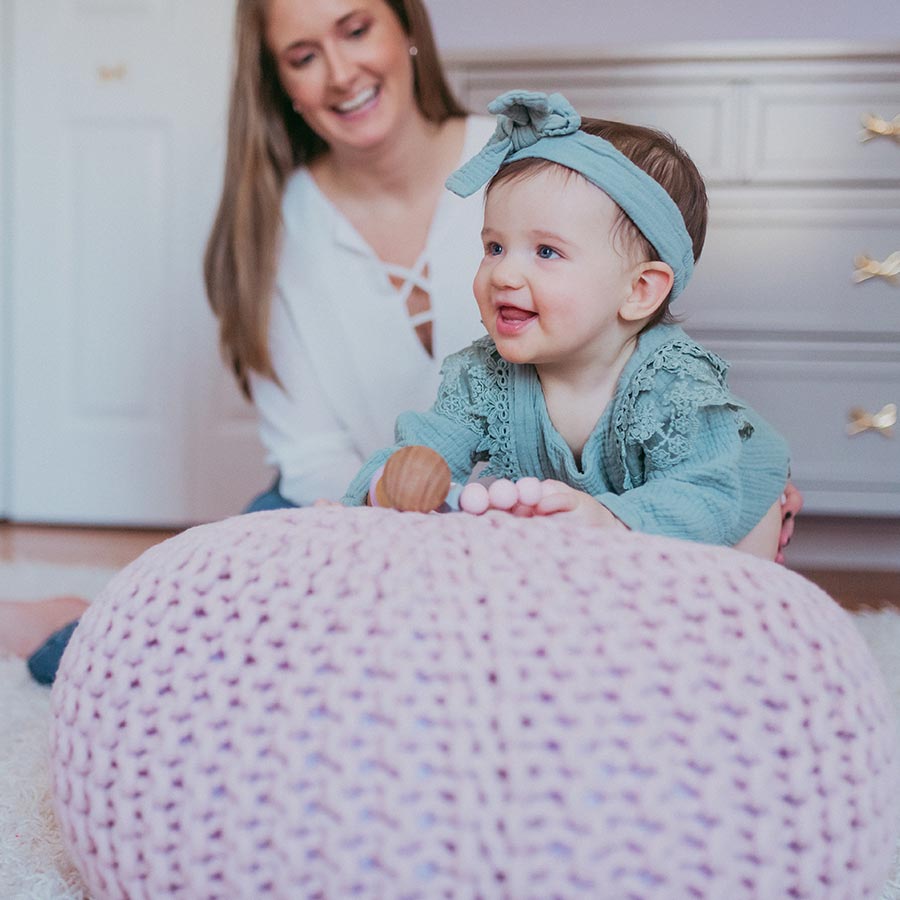 Step 3: Play
Introduce signs in a fun and playful way.

Develop a schedule to fit your existing, daily routines.

Avoid mistakes that will sabotage your hard work.

Watch in-depth videos to see techniques in action.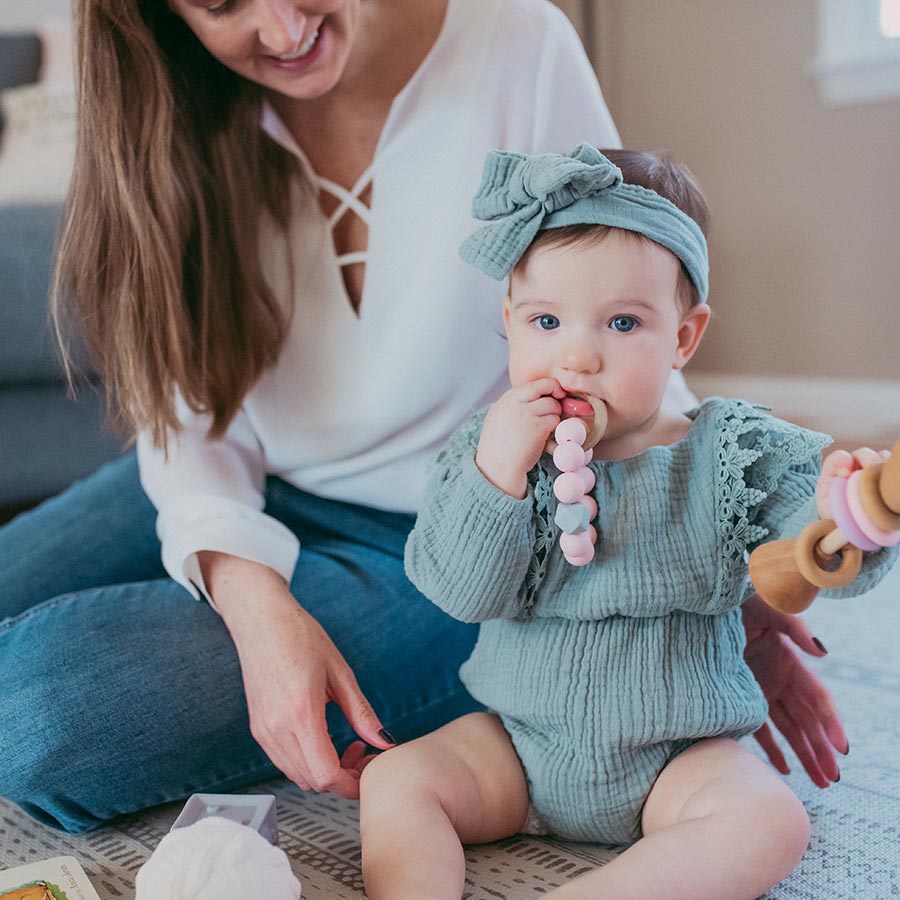 Step 4: Pay Attention
Understand what to expect from your baby's first sign.

Know when to expect a response from your little one.

Identify your baby's earliest attempts at signing.

Watch videos of babies signing to know exactly what you can expect.
Step 5: Praise
Share your excitement with your little one.

Understand how your reaction shapes future development.

Learn key ways to react to fast-track your progress.

Know what to avoid when things don't go according to plan.
Bonus #1 – Private Facebook Community
Exclusive invitation to the Tiny Signs private Facebook community.

Get answers to your questions directly from the course instructor.

Learn how to sign along to songs and books from videos that aren't available anyplace else.

Enjoy the support and community of other parents who have succeeded with baby signing!
 Bonus #2 – LIVE Zoom Classes
For a limited time, join baby sign language author and expert Lane Rebelo for twice-monthly LIVE Zoom classes.
Classes meet on the first and third Saturday of each month at 2:00pm Eastern through June 2021. 

Attend with or without your little one.

Learn signs focused on a different theme in each class. You'll come away from each class with activities and songs you can have fun using throughout the week.

Get all of your baby signing questions answered in the live Q&A at the end of each class.
We love hearing success stories like these! 
Lane made us think outside the box and what worked best for our baby! Her videos allowed me to watch at my own time and practice. I definitely recommend Tiny Signs! It's such a wonderful bonding time with the baby and it's so much fun watching them react to the signs!
– Kajal Patel
Tiny Signs gave me the tools to start communicating with my daughter. It also gave me additional confidence by showing common pitfalls and reassurance along the way. You can tell Lane cares about each student.
– Lauren Backman Locke
My baby is communicating more and more, and signing helps us read each other better, reduce frustration and explore the world! The "go at your own pace" format and the fact that I'd have the resources forever were music to a busy mama's ears. 
– Leah Marcus
Tiny Signs makes communicating with your baby easy.
Step 1: Buy the Self-Paced Online Course
The content includes short videos and useful downloads to make learning easy.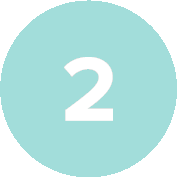 Step 2: Follow the Simple, Step-by-Step Plan
Have fun teaching and practicing sign language with your little one.
Step 3: Love Communicating With Your Baby!
Imagine the memories you'll make as your baby learns to express themselves!
Tiny Signs includes a 30-day, money-back guarantee.
The Tiny Signs Promise
You deserve a clear plan to help your baby communicate through sign language. That's why Tiny Signs is:
Flexible
Complete the steps whenever, wherever! The course is completely online and on-demand. And because the lessons are intentionally short, you can fit Tiny Signs into your busy schedule.
Parent-Focused
You are your baby's best teacher. Get everything you need to succeed with no required screen-time for your little one.
Affordable
For a fraction of the cost of one-on-one lessons, you get lifetime access to the course. Refer back again and again and again for as long as you need it!
Practical
You don't have to become fluent in sign language to be successful! You just need to know a few more signs than your baby does. (And with Tiny Signs, that's a snap.)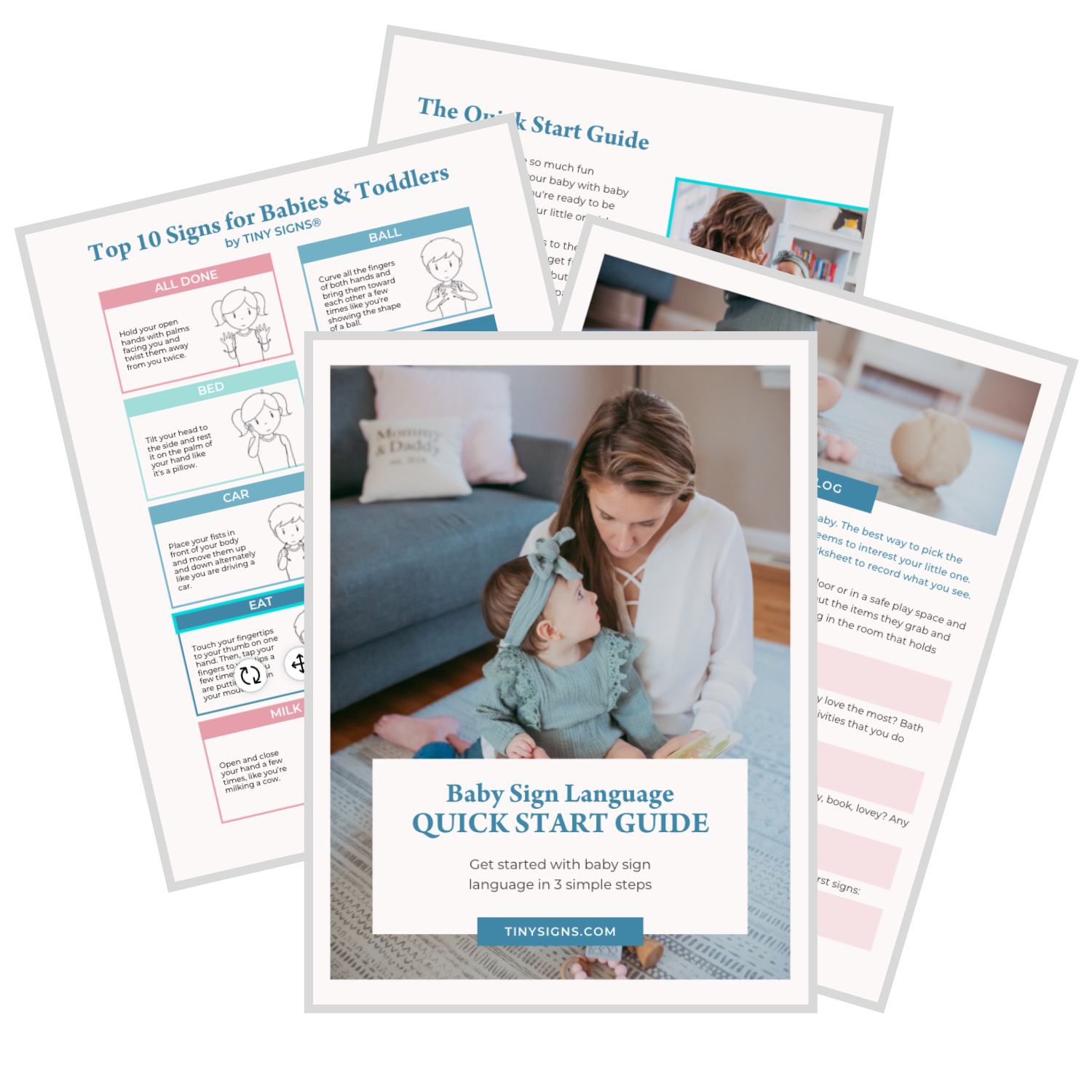 Free Download
Baby Sign Langage Quick Start Guide
Baby sign language doesn't have to be confusing! Download our free Quick Start Guide and get started with baby sign language in three, simple steps. Click the button below, enter your email address, and we'll send it right over. 
I don't know any sign language. Shouldn't I start there?
Tiny Signs is actually designed to teach you basic sign language as you teach your baby.
You'll feel confident you're signing correctly, you'll know how to tell it's working for your baby, and you'll get practical tips to avoid common pitfalls. You've got this!
Can't I just read your books?
My books are the perfect companion to the course! In the online course, I will guide you through my unique, five-step process to get your baby signing—with guaranteed success. The course's engaging videos let you take a deeper dive while I show you, not just vocabulary, but my Tiny Signs techniques in action.
Can't I learn sign language on my own?
Plenty of videos and websites offer pieces of the baby-signing puzzle. The trouble is, they leave out key strategies that can literally make or break your signing experience. 
I've heard from so many parents who tried signing and gave up. It breaks my heart every time! I truly believe if they had used the Tiny Signs approach, their story would have a very different ending!
How exactly does an online course work?
All the course content—the videos, worksheets, checklist, and charts—are available on the course portal.
As soon as you enroll, you get access to the full course, but you can complete it on your own schedule. Binge watch it in one day if you'd like, or go through it at a more leisurely pace.
I'm super busy. Will I be able to finish this course?
This course was actually created for busy parents just like you! 
Tiny Signs is available on-demand from any location, at any time, on any device. Plus, the videos are short and sweet, so you can fit in a lesson any time you have a few minutes.
And if things get really busy? Your purchase includes lifetime access, so can come back to the course at any time.
Is my baby the right age?
Starting at around 6 months is ideal, but it's never too early or too late. 
If your baby is younger than 6 months, you'll be laying a great foundation for when they can start signing back. And because you have lifetime access, you can reference the Tiny Signs resources again and again.
If your baby is older and already speaking a few words, don't worry. Since early speech is still really hard to understand, baby signing can be a lifesaver (especially for a frustrated toddler or parent).
Does my baby need to watch the lessons with me?
Nope! First, how hard is it to get your baby to sit still for anything? We wouldn't do that to you. Second, you are your baby's best teacher. You watch the lessons and practice the signs, then teach them to your baby. 
What if it doesn't work?
If you follow the step-by-step system you learn in the course, you're guaranteed to succeed. It's foolproof!
That said, your satisfaction with the course is my top priority. I've put my heart into creating this for you, and I want you to love it! If you try Tiny Signs and decide it's just not for you, I'll refund your money within 30 days of purchase.
With Tiny Signs, your whole family can learn to sign with confidence.