Introducing Sign Language in the Early Childhood Classroom
So you're thinking about adding some American Sign Language (ASL) to your early childhood classroom – that's fantastic!
If you've got questions about getting started or looking for a place to start, I hope this article will really help you.
The are so many benefits to using sign language with young children as a learning tool. But if you've never studied ASL, it can be a little overwhelming! Which signs should I start with? How do I learn to do the signs? How do I introduce them to the classroom? Am I qualified to teach this?
Teaching American Sign Language When You're a Student Yourself
I'll start by saying that, in an ideal world, every classroom would have access to an experienced ASL user and member of the Deaf community, as well as a skilled interpreter, to help you introduce signing to your young students. But since that's probably not possible, you'll have to do your best on your own – and you can totally do this. I know you teach the little ones in your class songs with fingerplays already (hello Itsy Bitsy Spider!), and introducing basic ASL vocabulary is basically the same process. You can totally do this!
It's ok if you are learning the signs right along with your students – that's fine! You don't have to be fluent to introduce the basics. Just as you don't have to be fluent in Spanish to teach your students that rojo = red, you can teach some basic ASL vocabulary in your classroom with just a handful of signs in your repertoire. Just be prepared… your little ones will get the hang of signing quickly and start asking you the signs for more items once they get the hang of it…so be prepared to ramp up your learning too.
American Sign Language for Classroom Routines
To get started, I recommend adding sign language to your existing classroom routines. Every classroom, whether an infant, toddler, preschool or mixed-age setting has a daily rhythm and structure to their day. The order will vary from classroom to classroom, as will what you call each activity or time of day, but almost all early childhood classrooms will include some – or all – of the following in their daily routine:
Arrival Time

Meeting Time (or Circle Time)

Play Time (or Free Choice or Center Time)

Clean Up Time

Story Time (or Quiet Reading Time)

Snack Time/Lunch Time

Outside Play or Recess

Nap Time (or Rest Time)

Dismissal Time
Does your daily routine look something like this? I'm going to show you how to easily add a few signs into your day seamlessly. Even if your schedule is not super structured, you can easily add a few basics signs throughout the day and before you know it, it will become a fun part of your day and something your students look forward to and enjoy too!
Adding ASL Signs to Daily Classroom Routines
Here are some really easy to learn, basic ASL signs that you can start using each and every day of the week in your classroom:
ALL DONE

BOOK

CLEAN

EAT

HELP

OUTSIDE

PLAY

SLEEP

WAIT
How to Use These Signs in Your Classroom
ALL DONE – This is a really helpful sign to use at transition times throughout the day. Moving from one activity to another (ending center time and moving to rest time for example) can be challenging for most young children. Saying & signing ALL DONE as you wrap up part of your daily routine gives little learners a visual and auditory cue that it's time to switch gears.
BOOK – Whether you do a group story time, or an individual quiet reading time, the sign for BOOK is a wonderful cue for any reading activity.
CLEAN – Sign CLEAN when it's time to pick up toys, tidy up the table after snack, or put away blankets and loveys after rest time. If you have a "clean up song," do the sign for CLEAN as you start to sing the song.
EAT – Use the sign for EAT when you talk about lunch or snack time during the day. Even if you pair the word "snack" with the sign EAT, it's conceptually the same so don't worry about always matching the ASL sign to the exact word in English.
HELP – This is a useful sign at any time throughout the day. Model how to use the sign for HELP when you ask your students to help you with a task and they will learn to use it when they need a helping hand too!
OUTSIDE – We all need some fresh air each day! Sign OUTSIDE when it's time to play outside and burn off some energy.
PLAY – PLAY is a useful sign to signal free play time, or if you're inviting children to play a game together.
SLEEP – The sign for "nap" is the same as the sign for "sleep," so use the sign for SLEEP when it's nap time or rest time.
WAIT – I love this sign! Patience and waiting is a developing skill for young children (and some adults ;) and this sign is a great tool for letting your students that it's not quite time for something just yet.
How to Do the Signs (Videos)
The best way to learn how to do signs is in-person or with video. It can be hard to learn how to do a sign the first time from an image. Pictures and illustrations are helpful reminders of how to do the signs, but to really get the hang of it, you really need to see them in action.
Here are 9 videos to help you feel confident that you are doing these signs correctly.
Order Your Printable Guide for Your Classroom
I've created a beautiful printable chart and instructional guide of these 9 signs that you can print out and post in your classroom as a reminder to use the signs, as well as a quick refresher on how to do them. Click the button below to order your Guide and have it delivered straight to your inbox.
Get the Guide!
Want an easy way to remember and use these signs in your classroom this year? Click the button below to have a full color guide with illustrations & instructions of 9 Useful Signs for the Classroom delivered straight to your inbox for just $2.99!
Get Started with Sign Language in Your Classroom
So now you know 9 easy and useful signs that you can use just about every day in your early childhood classroom! I hope you found this useful, and if you did, please share it with a friend, or pin it to your favorite Pinterest group board for early childhood educators.
I'd love to hear from you! Please leave me a comment below to let me know if this was useful to you. I'd also love to hear if there are any other topics you'd like me to write about in the near future. Leave your questions and suggestions in the comments below!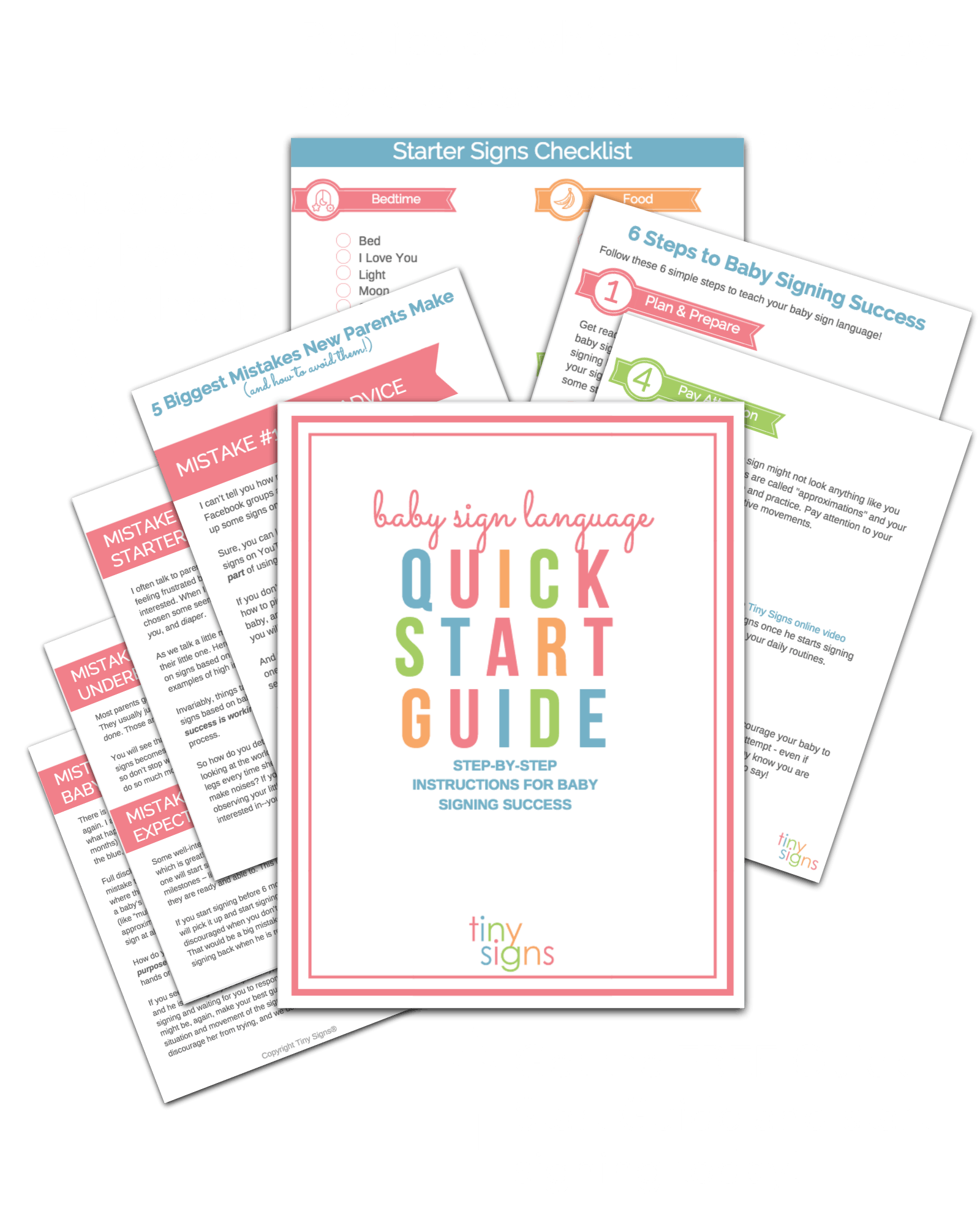 Subscribe to Get the FREE Quick Start Guide!
Subscribe to the Tiny Signs newsletter and get free tips & advice via email. You'll get the FREE Baby Sign Language Quick Start Guide delivered straight to your inbox as a special thank you for signing up!