The holidays are a great time to teach your baby some fun new baby sign language! If you'd like to learn some baby sign language for the holidays, this video will help! You'll learn how to sign CHRISTMAS, TREE, SANTA, LIGHT, REINDEER, ELF, GIFT, BELL and STAR in the following video tutorial.
My first daughter was 11 months old for her first Christmas. I had been using baby sign language with her for a few months at that point, and things had really taken off right as the holiday season began. One of her favorite signs at that time was the sign for LIGHT, and there are lights everywhere around the holidays. I remember she was signing it all. the. time. In fact, it was hard to get a photo of her where she wasn't signing LIGHT that year!
Learn when to start teaching your baby sign language.
Baby Sign Language for the Holidays
Want to make Christmas special and memorable for you and your baby? Take advantage of this opportunity to work with your baby's curiosity and introduce your baby to new words and signs.  There are so many things to capture your baby's attention at this time of year! You'll see colorful decorations and twinkling lights just about everywhere you look.
Learn the signs for common Christmas items so you can share them with your little one.
How to Sign CHRISTMAS and Other Holiday Signs
This video will show you how to sign CHRISTMAS, TREE, SANTA, LIGHT, REINDEER, ELF, GIFT, BELL and STAR.
Instructions on How To Do The Signs
CHRISTMAS – Make a "C" handshape and trace an arch in the space in front of you. Twist your hand so your palm is facing you as you complete the arch. It's like you're showing the top of a holiday wreath.
TREE – Place your nondominant hand parallel to the floor, palm facing down. Then place the elbow of your dominant hand on the back of your hand, palm facing forward and fingers spread open. Twist your open hand back and forth a few times. It's like the tree branches blowing in the wind.
SANTA – Make a "C" handshape with both hands and start with them under your chin with palms facing down. Then move both hands down in a curved so they end at your chest. It's like you're showing Santa's big fluffy beard.
LIGHT – Touch all your fingers together and lift the back of your wrist up above your head. Open and close your fingers a few times. It's like your fingers are the light rays shining down on you.
REINDEER – With your fingers spread open and your palms facing forward, tap your thumbs at your temples. It's like you're showing the reindeer's antlers.
ELF – Make a "G" handshape (pointer finger and thumb extended) and place them at the top of your ears. Move them upwards and close your pointer fingers and thumbs together as you move them up. It's like you're tracing the shape of an elf's pointy ears.
GIFT – Make an "X" handshape (pointer fingers bent) with both hands. Start with your hands at your chest and move them away from you. It's like you're giving a present to someone.
BELL – Make a "Q" handshape (pointer finger and thumb pointing down) and knock them against the open palm of your opposite hand. It's like the clapper of a bell making it ring.
STAR – Lift both hands above your head with the pointer fingers extended. Brush your pointer fingers against each other as you alternately raise your hands up toward the sky. It's like you're pointing at all the stars in the sky.
Conclusion
For many of us, Christmas and the holidays is a time when lasting memories are made – both as children, and as parents. Baby sign language plays a wonderful part in my memories of both of my daughter's early Christmas experience. I love that they were able to express their excitement about all the decorations, family & other special parts of the holiday. I hope you'll make wonderful holiday memories with your little one this year too!
Learn more seasonal and holiday signs!
Tell me in the comments: What holiday sign are you most interested in teaching your little one?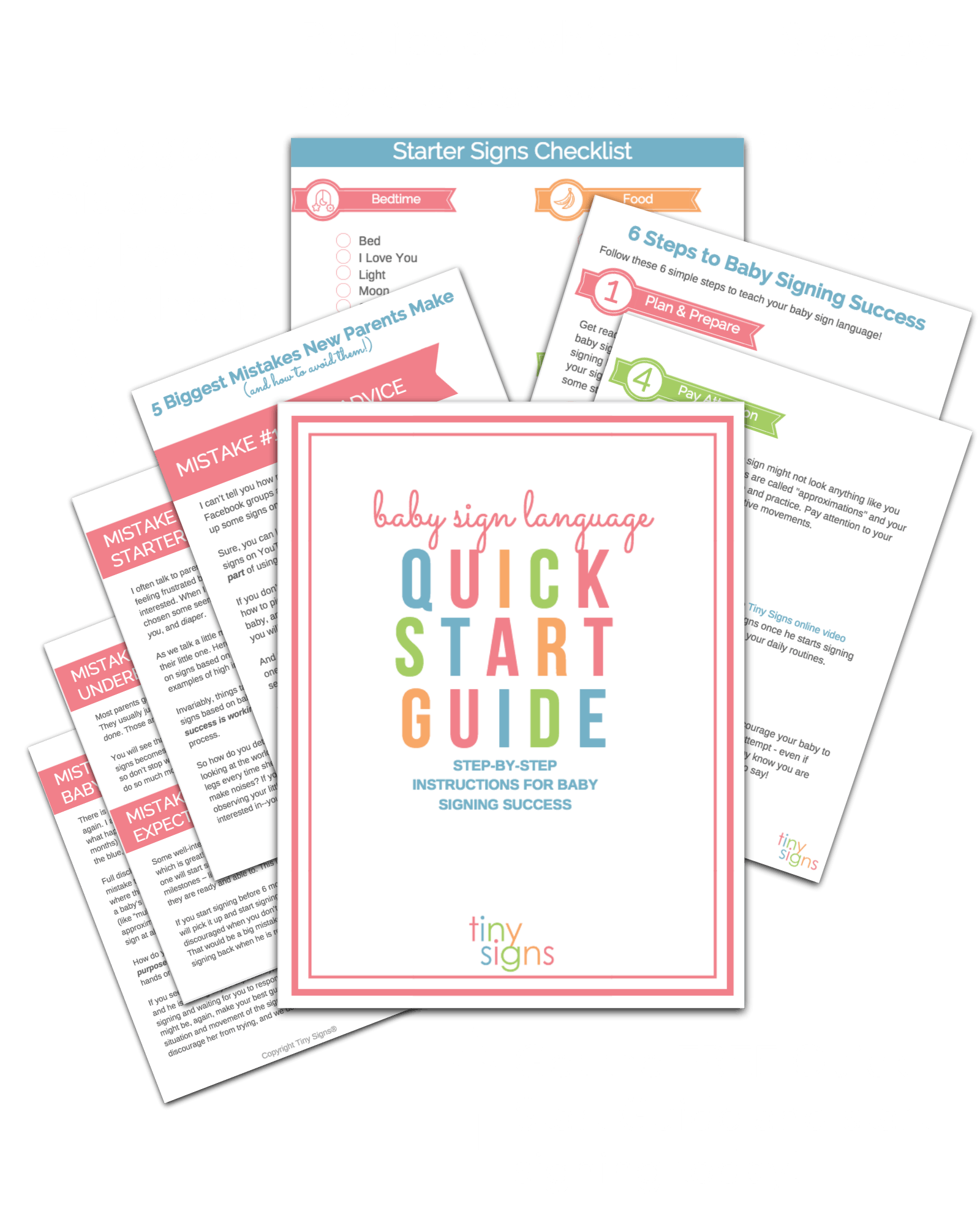 Subscribe to Get the FREE Quick Start Guide!
Subscribe to the Tiny Signs newsletter and get free tips & advice via email. You'll get the FREE Baby Sign Language Quick Start Guide delivered straight to your inbox as a special thank you for signing up!